Auxbeam White & Amber LED Lights
Showing all 6 results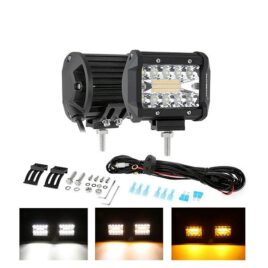 Auxbeam 4-Inch 6-Mode White/Amber LED Lights
Series: White & Amber SIX Modes
Satisfy cross-country personality modification, cool illumination driving, suitable for all kinds of occasions emergency lighting. 6-Color Mode, quickly switch within (2) seconds by power button:
1-White 2-Amber 3-White & Amber 4-White / Strobe 5-Amber / Strobe 6-White & Amber / Strobe
Function Plus - with memory and synchronization
a: while power off, the light will remain in the previous light mode for the next start.
b: while long press the switch over (3) seconds, then will return to the first mode color (white light).
Specifications:
LED Type: 3030 chips
Size: 4-inch 120W-40pcs*3W
Dimensions: 3.74" x 4.72" x 2.36" (with bracket) 3.74" x 2.95" x 2.36" (without bracket)
Beam Type: Spot Beam
Color temperature: 6000K&3500K
Operating Voltage: 9-32V
Material: Black Diecast aluminum alloy housing
Mounting Bracket: Stainless Steel
Waterproof rate: IP68
Working Temperature: -40~85 degree Celsius
Lifespan: 50,000 Hours
Notes on Wiring:
If you use a traditional single control switch for wiring. Then you only need to connect the red wire and the yellow wire to the positive electrode, and the black wire to the negative electrode. In this way, different light modes can be switched through the switch. (If the light are OUT OF SYNC, please disconnect the two lights and adjust them to the same lighting mode respectively, then reconnect the two lights again)
Features:
High quality 6063 aluminum body, durable to withstand any harsh condition
Die-cast aluminum alloy cooling fins design for better cooling
IP68 international standard. Effectively waterproof up to 30 minutes in 3 feet of water
Great performance of waterproof, dustproof, shockproof, Anti-corrosion
Wide Operating Voltage Range:
Off-Road vehicles-ATVs, SUV, truck, Forklift, trains, boat
Specialized vehicles-Fire engine, police cars, rescue vehicle, Communication vehicle, military command vehicle etc
Engineering vehicles-Excavator, dozer, road roller, bulldozer, crane and mining truck etc
Package Includes:
(2) LED Lights
(1) Wiring Harness
Video:
[kad_youtube url="https://www.youtube.com/watch?v=wYyq-sdAAN4" ]

not rated
$

52.95
Add to cart