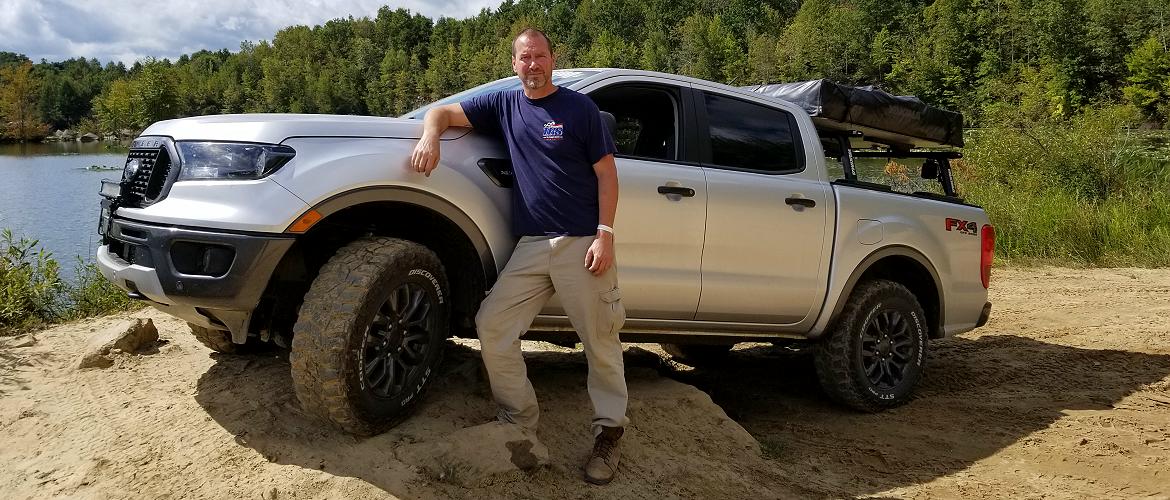 History:
I have been modifying and off-roading Ford Rangers since I purchased my first Ranger in 1992.
In 1999, I created 'The Ranger Station' (www.therangerstation.com) as the Internet's leading resource for off-road Ford Ranger and Bronco II enthusiasts. My goal was to share the modifications I had made to my Ranger and create a place for other enthusiasts to share information as well.
I began offering a few custom fabricated parts to enthusiasts in 2004. In 2005 I created 'TRS Fab & Off-Road' (trsfabandoffroad.com) and began selling parts online.
At the end of 2010 I decided to change the name from 'TRS Fab & Off-Road' and use my primary business name of 'James Oaks Enterprises'. Over the next few years, I saw a decrease in the aftermarket products that were available for Ford Ranger enthusiasts.
At the end of 2016 I closed the online store when I moved from Ohio to Texas. I spent the next two years focused on finding a new home and get settled in Texas.
2017 Epic Road Trip Exploring The West:
In 2017 I set out in my 2010 Ford F-350 in an epic road trip Exploring The West. My truck was modified with:
3-Inch Rough Country suspension lift
295/70/18 (34.50x12x18) Cooper Discoverer STT PRO tires
Smittybilt 12,000 lb winch
Pro Comp 9004 6-Inch halogen off-road lights – upgraded with Pro Comp 130 watt bulbs
180 Watt spot/flood 32-inch LED Light Bar
5-gallon fuel can (extra diesel fuel)
I spent 21-days exploring 3-states and numerous National Forests and tourist destinations. Most of the trip was spent on back roads and old US routes, and my nights were spent in either a tent or sleeping in my truck.
Return of The Ford Ranger / Overland Expo / Trans America Trail:
In 2019 Ford brought the Ranger back to North America. They loaned me a new 2019 Ford Ranger FX4 to use for 6-months. I referred to the Ranger as the 'Loan Ranger'. I chose to keep the Ford Ranger basically stock to demonstrate what a stock Ranger could do, but upgraded it with:
265/70/17 Cooper Discoverer STT PRO tires
Hi-Lift Jack
X-Bull Recovery tracks
Scepter Water and Gas Cans
Lifetime 55-quart cooler
Shovel
Recovery gear
Nilight LED lights
Yakima roof top tent (installed by Ford)
My first adventure with the Ranger was to Overland Expo West in Flagstaff, Arizona. I spent my nights sleeping in a roof top tent, and checked out the overlanding gear and classes during the day.
In June I set out to complete the Trans America Trail. A lot of people have completed it on motorcycles, but few have done the whole thing in a vehicle. I drove 5,397 miles exploring the Trans America Trail, and spent 2,341 of those miles off pavement.
The Return of James Oaks Enterprises:
In 2022 I decided to re-open James Oaks Enterprises. With the return of the Ford Ranger in 2019 and the Ford Bronco in 2021, I wanted to be able to provide parts to my fellow off-roaders and overlanders.
Conclusion:
My desire to sell off-road and overlanding products comes from my experiences in off-roading, overlanding, and modifying vehicles. I appreciate you taking the time to check out this site, and look forward to serving you.